It is late, but I hope you guys raked a lot of hongpaos for the ones who celebrates in the year of this Golden Rabbit!
This was a gift from my lovely aunt in Singapore, a bunny filled with jellies. It's to commemorate the rabbit year of course, and for a change, I finally returned home for the first time in 3 years spent out of the country! Chillin' at home, wearing dad's slippers... That's the relaxing life I want I wish to have with such a nice ergonomic leather incline sofa seat.
Of course, speaking of the tradition of Chinese New Year, we need to have NEW clothes, shoes, undergarments, hair, eyes (glasses if you must), everything spanking new! Not necessarily a house but maybe more fortune will do come if you did move to a new house?


Back to topic: Bottom line, so I did transform myself... say, just 35%.
I bought myself a dress, and it's BLACK (while chanting I am not superstitious and I don't care if I wear dark colors) from MU, and shoes! The lo and behold shoes I've been waiting for since I bought it in July 2010 and I thought it looked great but when I wear it it made the shoes so ugly because of my two big feet - the Zaha Hadid x Melissa rubber wedges! It's red.
Ah, let me tell you my plan for CNY: To ward off any bad negative energy because of my black dress, everything else I adorn should be red. My shoes, nails, accessories, glasses, bag, and well, my hair.
So my hair. No, nothing of the bizzare which I wanted but didn't have enough time and the salon I went to do it didn't dare to (super hard technique I know and it takes like the whole 10 hours methinks), to red.
Nah, not the whole thing... Just, a frame of red.
Let the pictures speak.
•wearing KTZ hood-dress, Zaha Hadid x Melissa wedges•
My heavenly proud piece of KTZ whom Kikwang of B2ST wore in the MV Soom in which I danced his part is still brand new, so it's still considered OK to be use on CNY too. Although still, till now, it's still new. It's really too hot to be in it! Bling it on, I totally love being in it.
So, the art piece I'm stepping on - sorry I've worn it to the big main streets too -
One last thing that gets my attention: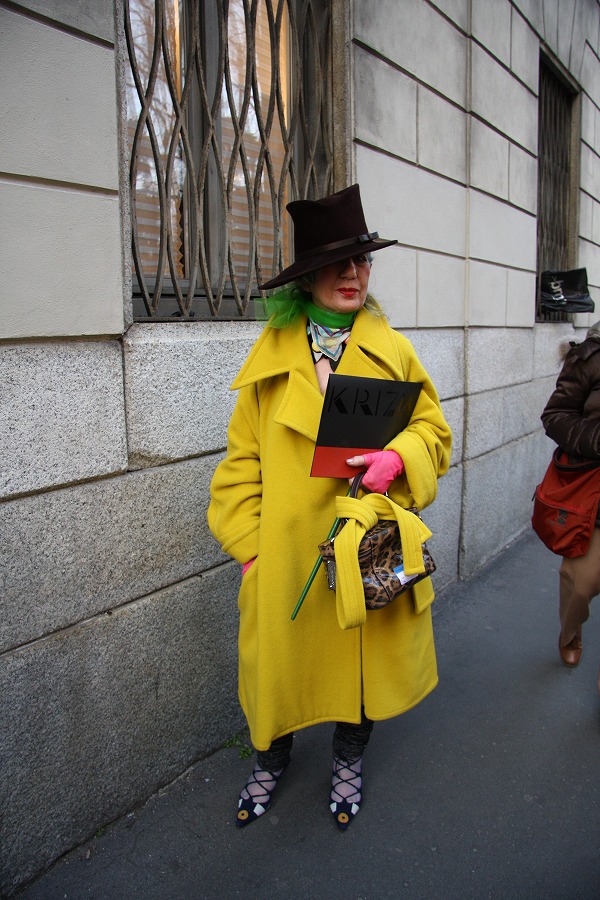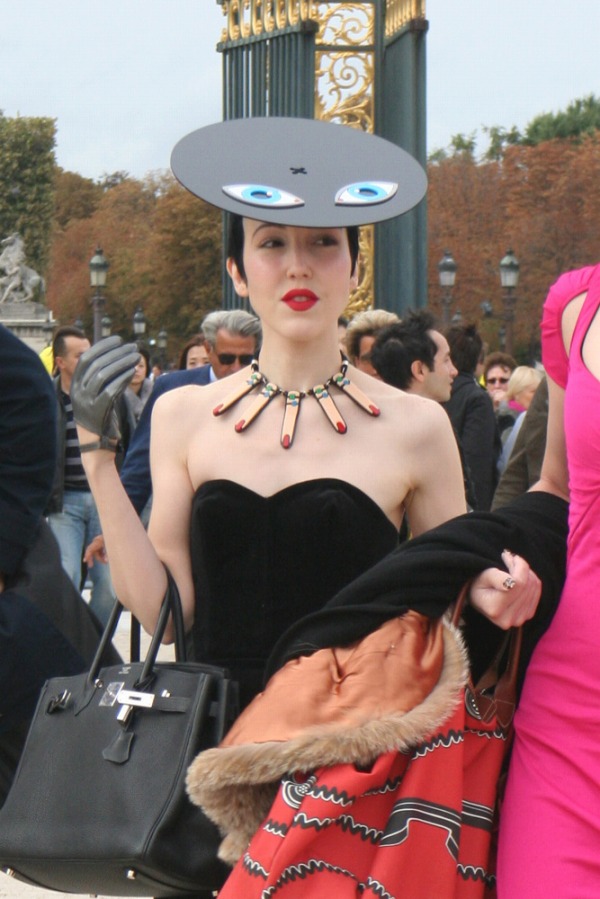 Anna Piagi via
Change Fashion
. She's clasping the BIGGEST invitation ever seen by KRIZIA. The brand is not utterly prominent anymore but it's stocked loads in my Vintage Sale - so this brand should have been a legend to back then but with the wrong branding, guess it slumps off sadly. Quirky shoes she's got there!
And the green scarf reminds me of Confessions of a Shopaholic, yes? :)
Second one, I'm not sure who she is from Paris Fashion Week! Anyone could tell me? Her surrealistic accessories is catchy and well, the classic Birkin. The necklace's fingers is oddly familiar with that SS11 purses in my work place...
Wait a minute!

I've started to join SVPPLY ::
Your Svpply is your collection of the products you love.
It's the next big thing I tell you and do find me there on the link above! Instead of Tumblr-ing what I want, this is a special site only dedicated to things you want to buy. Let me say, an awesome mash-up of
Tumblr & Polyvore
combined? Covers apparel, accessories, shoes, media, etc.! With Ruby-interfaced (I'm sure of this as the layout is just NICE!) and easy sharing to add things to your page, totally the next big sharing thing where you can
link to your Tweet/Fagbook.
http://ghostxhearts.tumblr.com
Yo, 'ssup

me over there! I play frequently there rather than here as it's faster and easier! Adios amigos!