Not working so much this year for me.
How about you guys?
In a warm-up post to get all warmed up for the season, and we still having the humid and terrible pouring clouds, here's my Joyeux Noel hamper, gotten from my cousin who's a master at the baking and cooking. Definitely a house kitchen master!
And you can't find these anywhere else...
TROPICAL STYLE GINGERBREAD PEEPLE.
Where else can you find?
Only in Singapore you'll have your Gingerbread people in
bikinis and trunks (the surfer girl is my personal favorite but she broke her arm. /awww)
, and tux and a dress (out of ideas, my cousin say) whom she drew out of a non-hardening glitter food gel. Glitter!
What's more, she baked the most moist and soft pumpkin bread that is just right in its texture, and orange peel chocolate muffins that are so delectable and substantial as it is so dense once you bite in - after a pop in the microwave.
•lovely Joyeux Noel food hamper!•

•tried to save the surfer ginger people to a better place, while the girls lost an arm and...•
•lost her head. Michon naba. Kekeke~ Oops.•

I was dropping by for Feliz Navidad dinner and Midnight Mass and to visit my cuteeeeeeee pie Grace, the baby girl niece who turned 1 last month.
and boy SHE GREW A LOT. I WAS SHOCKED TO SEE HER walking and crawling on the floor with her adorable chubbiness I can't explain in words and her dad - my cous say, "she's still underweight though."
So here she is like when she was 4 months old or something...
•my favooooorite picture. LIKE 1 million times•

And now she's 1 year and 1 month's old... AND, THE BIG CATCH IS THAT SHE KNOWS THE CAMERA. She poses once I snapped and the flash blasted, and she started smiling and her face puzzled off as if she was thinking,
"What face or pose should I do now?"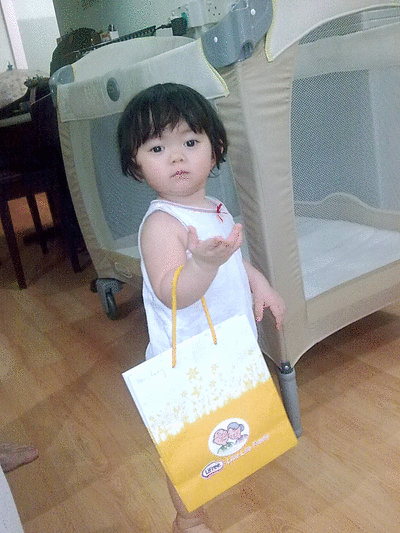 Speechless.
Too cute to believe but she now doesn't recognize me... TT_TT
Looks more like her mom now!
What is your Buon Natale wish? Here are some quotes taken from my dear T-list pal which I echo the most:
"@pyosaurus

You know you're old when no one gives you presents anymore ):"
A sparkling blessed Christmas, dear readers and friends!
Missed out what happened in the previous weeks of mine?
The big issue of Adeline Chia, K-Pop party madness, and MAMA 2011 and other event coverages.
Need some virtual love? Check out my T-list on the left here as I'm spamming some tweet-y love today for some #fangirl #kpop #food #christmas #presents.
Watch out for the next post in 2012 of
what made my 2011 THE YEAR FOR ME.
(NOT Y.O.U. since I'm still solo. It's going to be 'YEAR OF US' once Key's on my side.)