the horror.
Its D-3 days away from my flight to a two-week break to Bond cassanova Casablanca, baby!
And no, I haven't fully packed, so here I am in procrastination to start planning a 16-day outfit plan in one go - ever did that before? Europe trips tend to have the most longest duration; and other Western trips from here.
CAN I SCREAM WHUTDERRFAAAAAAAAAAAAAAAAAHHHH...
Because it was said that Madrid is now BBQing itself to a freaking 42-degrees Celcius, I luckily have purchase the largest 'sombrero like' hat in Bangkok (thank you,
dear 5-day trip
I never gotten around to upload more) because the tour leader just called in that "please prepare your hats". YES SIR, I got that cover since JUNE.
Another trip of preparation includes going to Kiehl's, which are CHEAPER TO BUY IN INDONESIA NOW (INSERT HURRAHS) for sunblock for mom's beautiful plastic slick skin more than me. We didn't intend to buy like more than 5 bottles and only intended for 1 bottle of sunblock, but alas...
Damage done. I COULDN'T BELIEVE IT THAT MY MOM AND I STOOD IN THE SHOP FOR 1 HOUR - that poor but amazing employee deserves Employee of the Month award to bag a customer for swiping 2K in one go - because of the promotion of getting a bag and other prezzies.
And the bag - caught my attention. Kiehl's IS from NY... so The Sartorialist here embroidered is... (and after a quickc Google... yeah) It's that
Sartorialist
A YEAR AGO.
But hey, it's a nice bag - look how ergonomic it is! Portrayed with more samples I bagged from le store.
READ: Price shrinking!
So yeah, everything fits to a bag including other things. Today, with me finalizing my draft of my research proposal for (YES) SCHOOL, NEXT FALL, (rolls eyes, school again with exams this time) explains the messy table on my computer with all those secondary quotes and footnotes.
*pusing kepala miring*
A goodie bag came! My mom's friend Tante A has shipped me a graduation gift - how lovely!!!! I never expected any - coming from Jakarta. Don't judge the box by its cover because it's not a Batik clothing from Keris. I never imagine myself to own a....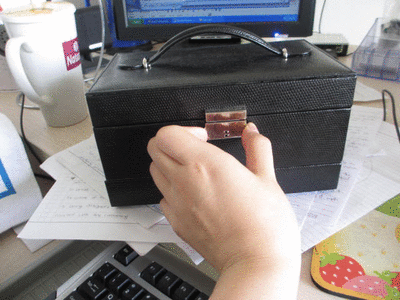 Go figure how I ended up with this. But isn't adorable with those bowties in the bottom drawer?
Thank you so much, Tante A! I really do love it, I do really use it - will - transfer all my rings inside. Now I don't have to loose another piece of earring again.
See you back in like two weeks after my jetlagged birthday on a plane.